"The Modoc War" Launch Party Nov. 19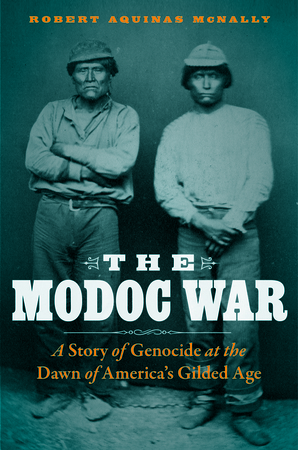 October 10, 2017
That's a Sunday, the time 3–5 p.m., and the place Mt. Diablo Unitarian Universalist Church, 55 Eckley Lane, Walnut Creek, CA 94596. Beverages and finger foods, a short reading from the book, and the opportunity to buy a copy if you so desire. Of course, I'll autograph it. Headcount helpful, so
RSVP
here.
Upcoming Events
•
Friday, Nov. 3, 2017, 2–4 p.m. Signing event for The Modoc War: A Story of Genocide at the Dawn of America's Gilded Age
. University of Nebraska Press exhibit booth at the Western History Association annual conference, Hilton San Diego Resort & Spa, 1775 E. Mission Bay Dr., San Diego, CA 92109. Conference details and registration on the
WHA website
.
•
Thursday, Nov. 16, 2017, 7 p.m. Reading and signing, The Modoc War.
Klamath County Museum, 1451 Main Street, Klamath Falls, OR 97626.
•
Sunday, Nov. 19, 2017, 3–5 p.m. The Modoc War launch party.
Beverages, finger foods, and author autographs. 55 Eckley Lane, Walnut Creek, CA 94596.
RSVP
.
•
Sunday, Nov. 26, 2017, 1–3 p.m. "Thanksgiving Nightmare: America's Native Genocide."
Presentation on how European settlers disposed of the Indigenous peoples of this continent, using the Modoc War as a brutal case in point. Mt. Diablo Unitarian Universalist Church, 55 Eckley Lane, Walnut Creek, CA 94596. Enrollment information available on the
MDUUC website
. Cost $15, all proceeds to MDUUC.
The Herky-Jerky Way The Modoc War Came to Be
In a manner of speaking, this book took 40 years. Not because I was actually writing it all that time, but because it happened in fits, starts, and stages, metamorphosing like butterfly from caterpillar again and again. In the end, the book I finished was not the one I started.
Which is just fine. Surprises are a sign that the writer is getting out of the way and letting the material goes where it must.
"Telling the Truth About the Modocs: The Long Road to the Real Story" dives into the evolution of
The Modoc War.
You'll find a link to this essay at the top of the Quick Links section of
my website's
right-hand column.
A Little Bit on Something Big: Genocide
In a purely lexical way, the crime didn't exist until 1944. That was the year when it was coined by international lawyer Raphaël Lemkin, who combined the Greek
genos
, meaning "race," with the Latin
cide
, meaning "killing." Lemkin went on to lay the legal foundation for the United Nations' definition of genocide as a crime in 1948. He was, of course, thinking of Nazi Germany's extermination campaigns, but he was quick to point out that the Holocaust was nothing new. Rather, it was "an old practice in modern development." Indeed, when Lemkin died, he was working on a book about historical genocides, including the Native peoples of North America.
By legal definition, genocide comprises acts "committed with the intent to destroy, in whole or in part, a national, ethnical, racial or religious group" by killing, causing serious physical or mental harm, creating conditions of life calculated to destroy, and preventing births. As you'll see in
The Modoc War
, that's what happened to the Modocs. And it befell many other nations, tribes, and communities of Native Americans as well.