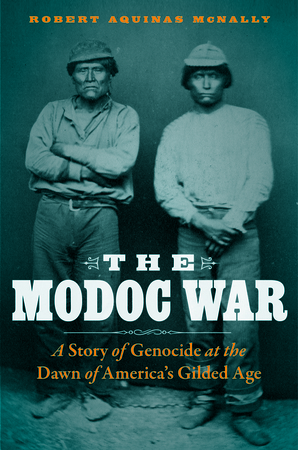 The Modoc War: A Story of Genocide at the Dawn of America's Gilded Age, unrolls a long-overlooked narrative that illuminates a dark corner of the American psyche. This conflict, which took place in 1872–73 and was California's only full-blown Indian war, climaxed a decades-long campaign of extermination and removal that symbolizes all too much of European America's treatment of Native America and the continent. The book appears under the University of Nebraska Press's Bison Books trade imprint and is available now in select bookstores and online at Bookshop.org and the University of Nebraska Press in hardcover, paperback, EPUB, and PDF editions.
Gold medal winner for the Californiana category in the 2018 California Book Awards sponsored by the Commonwealth Club of California. Nonfiction finalist for the 2018 Northern California Book Awards. Best of the Rest in Indian History, 2018 True West Best of the West awards.

"Well-paced with vividly drawn characters and exciting, dramatic prose, Robert Aquinas McNally has written the most thoroughly researched and historically accurate narrative history of the Modoc War to date. A tour de force of historical storytelling, The Modoc War is an insightful exploration of one of America's most important but forgotten Indian wars."


-- Boyd Cothran, author of Remembering the Modoc War: Redemptive Violence and the Making of American Innocence


"From the opening scene to the end, The Modoc War unfolds with an unrelenting pace and engaging immediacy. One rarely comes across a historical account written with such verve, truly deserving to be called a page-turner. Here is ethnohistory at its best, an accounting of Indian-white relations from multiple perspectives."


-- James J. Rawls, author of Indians of California: The Changing Image


"Robert McNally's history of the Modoc War, convincingly told from engrossing start to finish, tells the story of an American tragedy, but not without powerfully illustrating the nobility and endurance of the people who suffered it."


-- Greg Sarris, chairman of the Federated Indians of Graton Rancheria and author of Grand Avenue and Watermelon Nights


"McNally's fast-paced blow-by-blow account chronicles the daring actions of Modoc freedom fighters, treacherous U. S. soldiers, genocidal American settlers, and hubristic military leaders.... But this is more than a long-overdue accounting of broken treaties, broken promises, and tragic removal in California. McNally also shines a mirror at us, demanding a reckoning for the demographic and cultural genocide that occurred in the Klamath Basin and across the American West."


-- Natale Zappia, California History


"Robert McNally's page-turning Modoc War is one of the finest books ever written on this tragic history."


-- Benjamin Madley, author of An American Genocide: The United States and the California Indian Catastrophe, 1846–1873


"McNally is a strong storyteller with a conversational style and an eye for telling details…. This honest accounting of the cruelty, corruption, and savagery of the settlers — who believed their actions were smiled upon by God — takes a step forward in correcting a sanitized and muffled history."


-- Publisher's Weekly


"Key events in the conflict are portrayed in cinematic intimacy, but McNally also provides a brutally frank and damningly well-documented account of the war's sordid background: the faithless greed of white settlers who coveted the Modocs' land, the perfidy of US government officials, and the ingrained bigotry of the encroaching American culture and its doctrine of Manifest Destiny."


-- Bradley A. Scott, Foreword Reviews


"Regardless of what your political affiliations are, if you can read this story without any sympathy toward the disenfranchised and without anger toward those who rob them, check to see if you still have a pulse."


-- C. D. Quyn, Manhattan Book Review


"This is a sad tale of stereotyping Indians as savages; bureaucratic insensitivity; and Indian resistance to injustice, well told in a compelling narrative."


-- Abraham Hoffman, ROUNDUP magazine


"The Modoc War takes the reader to the moments of decision with a talent for telling detail, apposite use of archival materials, and a capable story-teller's sense of pacing and direction…. An impressive command of cultural context permits McNally to create the sense of witnessing events as they unfolded."


-- Ron Slate, On the Seawall


"McNally is known for his vivid, information-laden writing style. His telling of the armed conflict between the Modoc people and the United States Army near the California-Oregon border in 1872 and 1873 is true to form, a historical thriller that reveals the intricacies of the conflict."


-- Ishmael Elias, News from Native California

"... an absorbing narrative history of one of the few Indian-White conflicts in nineteenth-century California that merits the label of an 'Indian war.'"
-- Brendan Lindsay, The Western Historical Quarterly
"A detailed, well-researched account of a conflict emblematic of the genocide promoted by the 'winning' of the West and the spread of Christianity."
-- Margaret Verble, author of Pulitzer Prize finalist Maud's Line
"This book struck me as almost cinematic in both scope and atmosphere. I found myself compelled by McNally's pace and attention to detail, pulling for long-dead people as their struggle led inevitably towards its conclusion."
-- Matthew Kerns, DimeLibrary.com