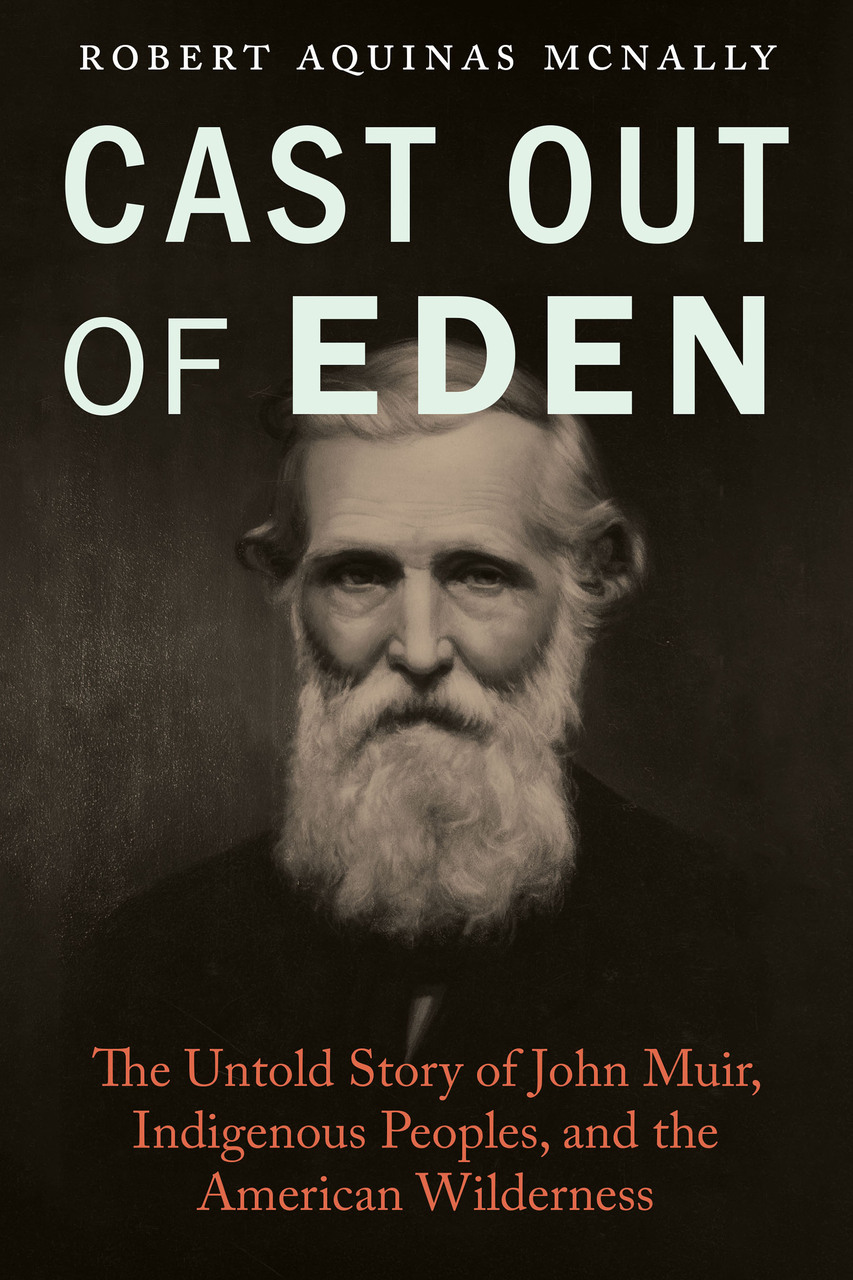 John Muir is widely and rightly lauded as the nature mystic who added wilderness to the United States' vision of itself, largely through the system of national parks and wild areas his writings and public advocacy helped create. That vision, however, came at a cost: the conquest and dispossession of the tribal peoples who had inhabited and managed those same lands, in many cases for millennia. Muir argued for the preservation of wild sanctuaries that would offer spiritual enlightenment to the conquerors, not to the conquered Indigenous peoples who had once lived there. "Somehow" he wrote, "they seemed to have no right place in the landscape."
Cast out of Eden tells this neglected part of Muir's story — from Lowland Scotland and the Wisconsin frontier to the Sierra Nevada's granite heights and Alaska's glacial fjords — his take on the tribal nations he encountered, and his embrace of an ethos that forced those tribes from their homelands. Although Muir questioned and worked against Euro-America's distrust of wild spaces and its deep-seated desire to tame and exploit them, his view excluded Native Americans as fallen peoples who stained the wilderness's pristine sanctity. Fortunately, in a transformation that a resurrected and updated Muir might approve, this long-standing injustice is beginning to be undone, as Indigenous nations and the federal government work together to ensure that quintessentially American lands from Bears Ears to Yosemite serve all Americans equally.
Cast out of Eden will be published on May 1, 2024. You can pre-order on the usual online sources, including Bookshop.org, and -- with a 40% discount via coupon 6AF83 -- on the Bison Books/Univ. of Nebraska Press website.


"To most Americans, John Muir is a folk hero, a writer and thinker who inspired the nation's wilderness preservation movement. Robert McNally's powerful new biography offers a darker vision, situating Muir's life and work in America's violent campaigns of Indigenous land dispossession and genocide. Cast Out of Eden is a vivid and absorbing read, one that will challenge everything you think you know about one of America's most famous environmentalists."
— Megan Kate Nelson, author of The Three-Cornered War, finalist for the Pulitzer Prize in History

"Robert Aquinas McNally takes John Muir off his pedestal and paints him as a man of his times, blinded by his belief in white supremacy and his faith in Manifest Destiny. In doing so, McNally provides a helpful, needed context for our own era and its conflicts."
— Margaret Verble (Cherokee Nation), author of Maud's Line, finalist for the Pulitzer Prize in Fiction

"Robert Aquinas McNally lays out not only John Muir's public love affair with the wild spaces that became national parks but also his deep-seated disdain for the American Indians whose homelands those parks expropriated. A page-turning, eye-opening read that delves unflinchingly into the dark side of preservation politics, then turns toward a future where wild spaces work their natural magic for all — not just some — Americans, including the tribes."
— Susan Devan Harness (Confederated Salish and Kootenai Tribes), author of the award-winning Bitterroot: A Salish Memoir of Transracial Adoption

"Robert Aquinas McNally brings John Muir and his world to life, warts and all, with an eye for gripping historical details. An urgent story for our troubled times, this is narrative nonfiction at its best!"
— Boyd Cothran, author of The Edwin Fox: How an Ordinary Sailing Ship Connected the World in the Age of Globalization, 1850–1914

"A thought-provoking masterpiece. Following the life and achievements of John Muir, 'Father of the National Parks,' McNally masterfully shows how one of America's greatest achievements — the preservation of our wildest places — is indelibly tied to one of our most abject failures — the treatment of the Native Americans who lived there."
— Matthew Kerns, Spur and Western Heritage Award–winning author of Texas Jack: America's First Cowboy Star

"Robert McNally has added to John Muir's legacy in a way that will hook both conservationists and those with little interest in wilderness. At a time when the natural world has once again become the protagonist of our story, McNally breaks down the complicated and conflicted relationship with nature to show how our long-standing attitudes toward wild spaces grew from the limited perspective of an elite few. This is the story not of a single man but of a time, place, and culture that created a public figure who has hugely influenced how we interact today with the natural world — for good and ill."
— Katya Cengel, author of From Chernobyl with Love

"Robert Aquinas McNally throws back the curtain on John Muir and our deeply held beliefs about how the American wilderness came to be. A dogged researcher, McNally offers sometimes unsettling facts but steeps such accounts in a deep reverence for storytelling. As hard-hitting as it is lyrical, the profound truth at the heart of this book invites all of us to rethink what we've been told about Indigenous peoples."
— Melissa Fraterrigo, author of Glory Days

"The unique value of this groundbreaking study is its unflinching demonstration that John Muir's racial views were not peripheral — they were central to his whole conception of wilderness. Native Americans had 'no right place in the landscape,' Muir believed, if wilderness was to achieve its higher purpose as a space for white supplanters to contemplate its spiritual essence. Cast Out of Eden is a seminal work, written with remarkable sensitivity and compassion."
— James J. Rawls, author of Indians of California: The Changing Image

"Cast Out of Eden is a necessary read for everyone interested in John Muir. Like Muir himself in his quest to understand nature, McNally has gone deep to explore the man's writings within the turn-of-the-twentieth-century American zeitgeist. The result is the compelling story of a complicated figure and his place in shaping this country's vision of itself."
— Mike Wurtz, head of the Holt-Atherton Special Collections and Archives, including the John Muir Papers, at the University of the Pacific

"A colorful portrait of the driven, politically savvy, and often ecstatic John Muir, and simultaneously a condemnation of his unwillingness or inability to transcend the racism of his era. . . . . McNally shines a light on the attitudes that resulted in the failure not only of Muir but also of U.S. presidents, universities, the National Park Service, railroad tycoons, the Sierra Club, and others to acknowledge successful Native American stewardship of the landscape. The final chapter lays out contemporary efforts by government and Native peoples to overcome this history, part of the soul-searching, renaming, and re-envisioning today's world needs."
— Malcolm Margolin, co-founder of News from Native California, former director of Heyday Books, and author of The Ohlone Way